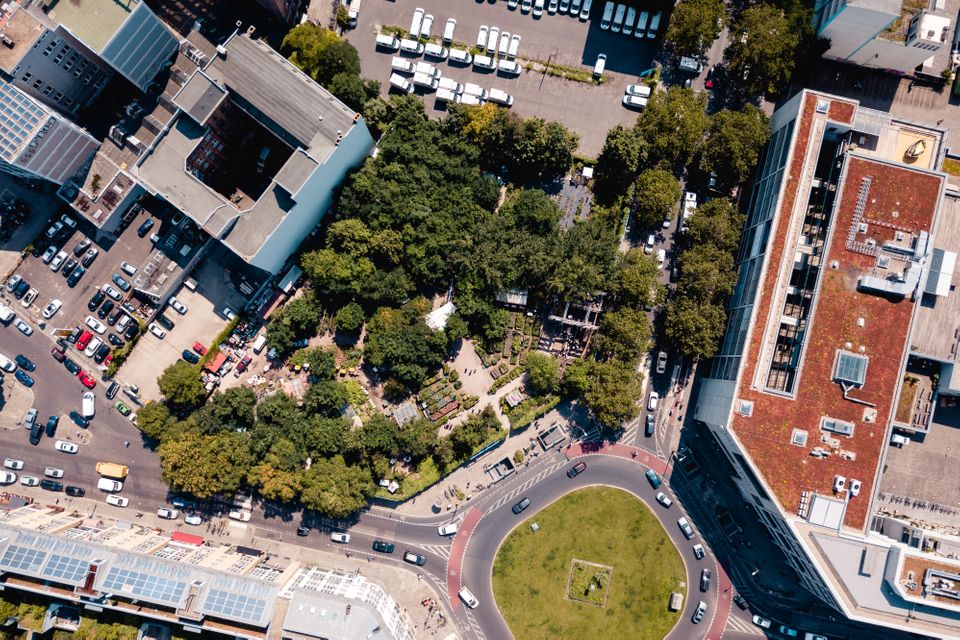 © Fabian Willi Simon
"Eines Tages werden die Wünsche die Wohnung verlassen und auf die Straße gehen" (Park Fiction, Hamburg). Der Prinzessinnengarten ist ein Pionierprojekt für einen sozial-ökologischen Freiraum. Seit 2009 wurde die ehemalige Brache mit Tausenden Helfer*innen in einen urbanen Garten für alle verwandelt und 2012 die geplante Privatisierung verhindert. Doch wie bei vielen Freiräumen und einer Vielzahl urbaner Gärten ist das, was von unten entstanden ist, nicht dauerhaft abgesichert, sondern wird lediglich als Zwischennutzung toleriert. Die städtische Planung kennt solche Orte nicht, ebenso wenig wie die Kategorie des Gemeinguts. Mit der "Wunschproduktion" macht die Abendschule einen Raum auf, um gemeinsam darüber nachzudenken, wie der Prinzessinnengarten generationsübergreifend erhalten werden kann: nachbarschafts- und gemeinwohlorientiert. Können solche Freiräume darüber hinaus Modell dafür sein, wie Stadt angesichts der gegenwärtigen und zukünftigen Krisen sozial und ökologisch gerecht gestaltet werden kann?
Ablauf:
16:00 - 20:00 Uhr: "Wunschproduktion" - Planung von unten, Commons Abendschule im Prinzessinnengarten
20:00 - 21:00 Uhr: Präsentation und Diskussion der Ergebnisse der Wunschproduktion, Moderation: Elizabeth Calderon Lüning (Common Grounds e. V.)
---
Veranstalter*Innen: Commons-Abendschule im Prinzessinnengarten: Melissa Harrison, Assad Kapper, Sabine Meyer, Lígia Milagres, Michelle Teran, Marco Clausen
---
Dream production: 99 years of Prinzessinnengarten
Become Commonists: Together we preserve the Prinzessinnengarten as a common good
What does the future of Prinzessinnengarten at Moritzplatz look like? How can it be maintained as a free space and organised together as a common good? In the desired production we organise planning from below and invite everyone to take an active part.
"One day the wishes will leave the apartment and take to the streets" (Park Fiction, Hamburg). Prinzessinnengarten is a pioneering project for a socio-ecological open space. Since 2009, the former fallow land with thousands of helpers has been transformed into an urban garden for all and in 2012 the planned privatisation was prevented. But as with many open spaces and a large number of urban gardens, what has been created from below is not permanently secured, but is merely tolerated as an intermediate use. Urban planning does not know such places, nor does the category of common property. With the "Wunschproduktion", the evening school opens a room to reflect together on how the Prinzessinnengarten can be preserved across the generations: for the benefit of the neighbourhood and the common good. Can such freedom also serve as a model for how cities can be made socially and ecologically fair in the face of current and future crises?
Schedule:
4:00 PM – 8:00 PM "Wunschproduktion" - Planning from below, Commons Evening School in the Princess Garden
8:00 PM – 9:00 PM Presentation and discussion of the results of the Wunschproduktion, moderation: Elizabeth Calderon Lüning (Common Grounds e. V.)
---
Paricipants:
Commons-Abendschule im Prinzessinnengarten: Melissa Harrison, Assad Kapper, Sabine Meyer, Lígia Milagres, Michelle Teran, Marco Clausen